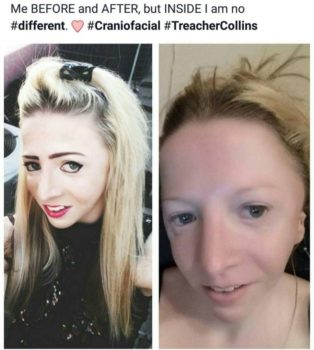 After the recent win of deaf contestant Nyle DiMarco on America's Next Top Model, another woman with Treacher Collins syndrome (a craniofacial anomaly) wrote about her experience auditioning for the show.  I applaud her honesty in describing her challenges and frustration with the standards of beauty.
"We live in a world of difference, a world that so far, has not often been represented in the modeling and entertainment industries. This prejudice carries over to the professional world, where people with facial disorders want to be accepted and looked at based on our own merits. . . .   I remember how the other contestants derided DiMarco because of his deafness, because he lived in a world of silence and was different, because, as they said, he would never fit into the high-stakes world he so aspired to join. With tears in my eyes, I heard his name called and watched his face light up in disbelief and overwhelming happiness when the American Sign Language interpreter translated the announcement of his win."
Treacher Collins is a rare craniofacial syndrome affecting the orbits, midface, ears, and lower jaw.  Even though she had several surgeries which are typically recommended for reconstruction, she still felt different, and wanted others to be able to look beyond the surface to appreciate her as a whole person.
It can be difficult fully efface the appearance of a craniofacial anomaly or difference, not least because of the sometimes visible scars.  However as a craniofacial surgeon my goal is to have patients grow and move out into the world and not have their appearance distract people around them, from all that they have to offer the world!
Read more about Treacher Collins